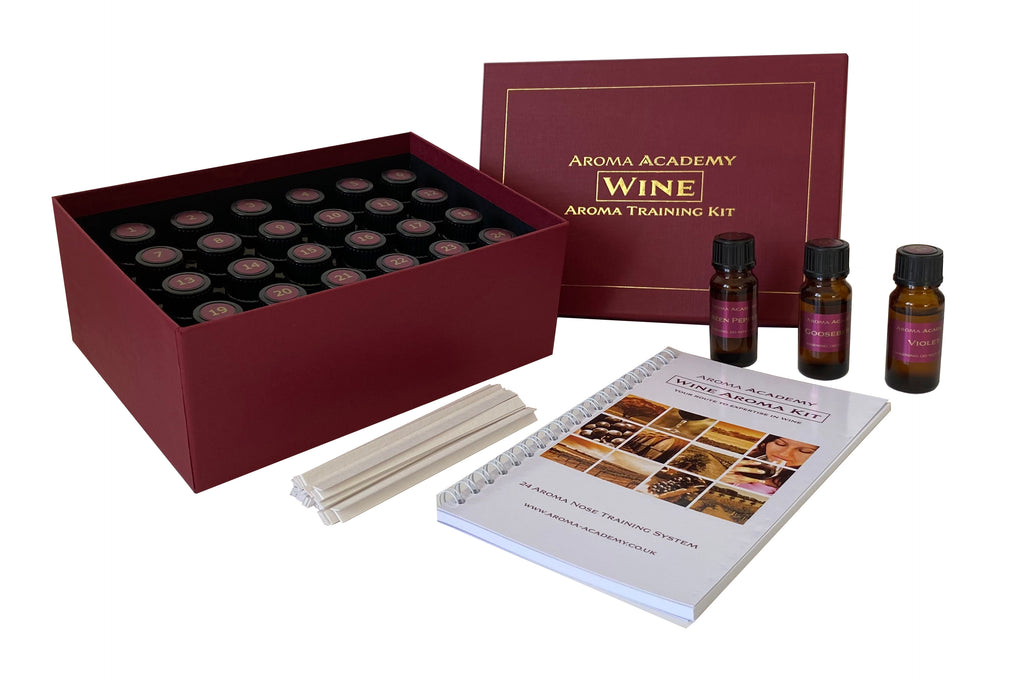 AromaAcademy
Wine Aroma Kit - 24 Aroma Nose Training System
$129.60 UK Price (inc VAT)
(Please note: all orders from outside of the UK will be charged the net price below but will also be subject to local taxes and customs clearance charges in the country of delivery.)
Teach Yourself to identify and describe key wine flavour profiles !
The kit and accompanying guide booklet will make Wine nosing and tasting an even more pleasurable experience and dramatically increase your Wine nosing and tasting knowledge!
Let us guide you as we;
Introduce a series of key reference Wine aromas!
Educate you regarding nosing terminology/vocabulary!
Explain the nosing and tasting process!
Identify the key aromas to be found in your favourite Wines!
with the unique Wine Aroma Kit and accompanying explanatory guide!
The Wine Aroma Kit contains 24 aroma nosing samples carefully selected by the leading specialist Aroma Scientist, from the Aroma Academy Dr George Dodd
This superb kit includes a booklet guide to not only " lead you through" the individual aroma samples but also through a recommended process for Wine nosing and tasting!
So, if you have you ever wanted to know how best to nose a premium spirit and have ever wanted to know what the experts mean by;
Asparagus aroma
Blackcurrant aroma
Gamey aroma
Gooseberry aroma
Violet aroma
then, the Wine Aroma Kit has the answers you have been looking for – and lots more!
So, whether you are:
a Wine enthusiast
looking for a present for a Wine enthusiast or are
an industry professional
The Wine Aroma Kit is a "must have" item!
As used by:
Leading Wine companies
Brand Ambassadors
Wine Connoisseurs
Wine Clubs & Societies
Wine Enthusiasts worldwide
The Wine Aroma Nosing Kit contains; 
24 aroma samples that cover the spectrum of aromas typically found in Wine
An explanatory spiral bound (for ease of use) booklet guide
Blank Aroma Strips
Nosing and Tasting Record Sheets
all packaged in an attractive presentation box.
---
Share this Product
---
More from this collection