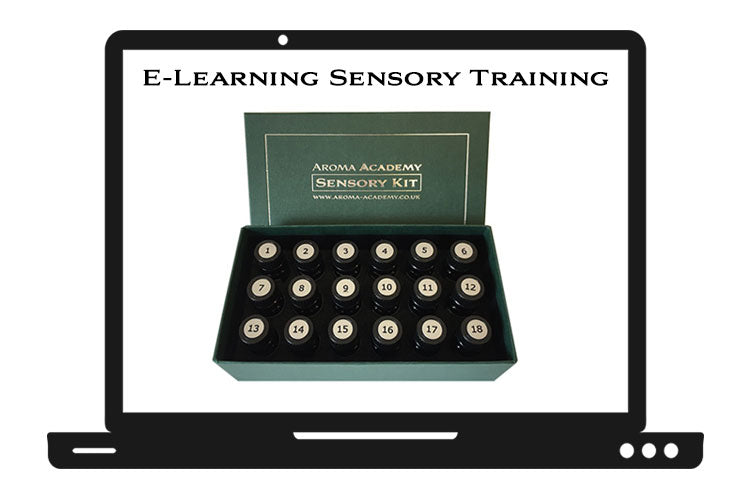 Aroma Academy
Aroma Academy E-Learning Sensory Training Programme and Aroma Kit
$193.20 UK Price (inc VAT)
(Please note: all orders from outside of the UK will be charged the net price below but will also be subject to local taxes and customs clearance charges in the country of delivery.)

Aroma Academy E-Learning Sensory Training Programme: Foundation Level (Drinks)

The Online Foundation Level Sensory Training Programme is aimed at food and drink professionals – (including: distillers, wine producers, brewers, sensory panel members, sales and marketing staff, sommeliers, professional bar tenders and retailers/distributors) - as well as enthusiasts and connoisseurs with an interest in the subject.

The topics covered:

Module 1 – Aroma and Flavour Recognition

Module 2 – How we Perceive Flavour

Module 3 – How Aromas and Flavours Behave

Module 4 – Aroma/Flavour Vocabulary and Categorisation

Module 5 – Olfactory Practice

Module 6 – Aroma/Flavour Profiling

Module 7 – Linking Aroma/Flavour Profiles to Drinks

Module 8 – Introduction to Aroma/Flavour Faults

Module 9 – Introduction to Sensory Competence/Proficiency

In the development of Sensory Skills, two elements are essential:
From a theoretical perspective, it is important to have an appreciation of the foundation theory behind the Sensory skills practice.
From a practical point of view it is crucial to have both the 'hands on experience', and the guidance on best practice methodology, to develop, what is in essence, a key practical skill.
You will be prompted throughout the course to carry out a series of practical exercises using the Aroma Training Kit which is also supplied as part of the Foundation Programme.
The Aroma Training Kit includes:
instructions for use
a series of numbered vials containing Aroma solutions which are representative of key Aromas/Flavours referenced in the course
a series of blank Aroma Strips to be used in conjunction with the Aroma vials
You also have the opportunity to undertake an optional assessment at the end of the course and, if you achieve the pass mark, you will be awarded a certificate for the theoretical element of the Programme.
---
Share this Product
---
More from this collection