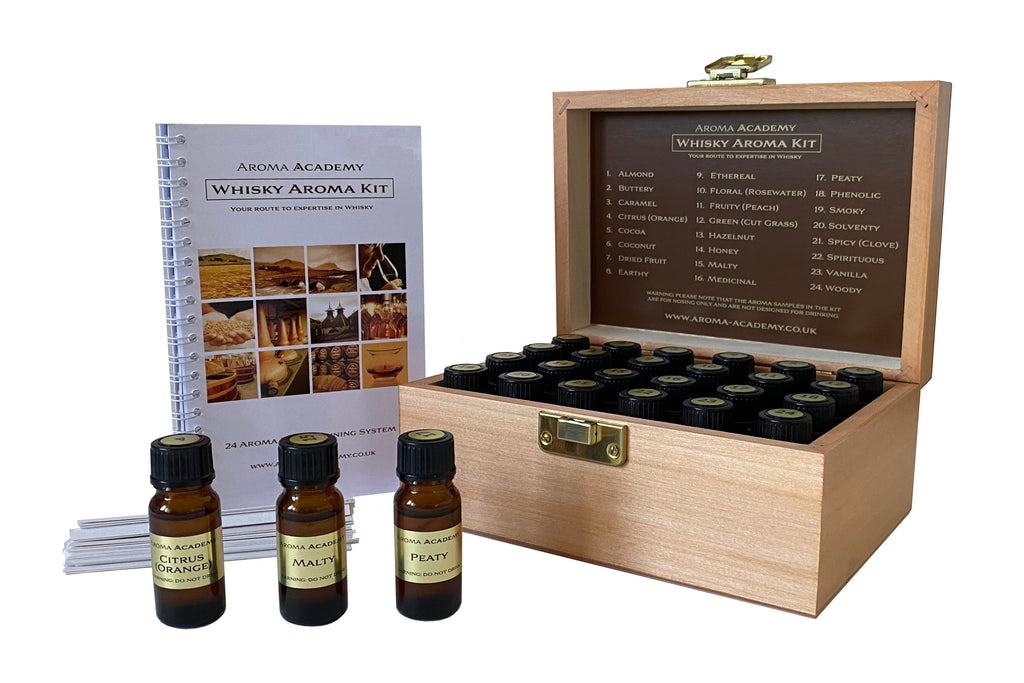 AromaAcademy
Whisky Aroma Kit - 24 Aroma Wooden Box
$168.00 UK Price (inc VAT)
(Please note: all orders from outside of the UK will be charged the net price below but will also be subject to local taxes and customs clearance charges in the country of delivery.)

The Whisky Aroma Kit and accompanying (60 page spiral bound with colour images) guide booklet will make scotch whisky nosing and tasting an even more pleasurable experience and dramatically increase your scotch whisky nosing and tasting knowledge!

Let us guide you as we;


Introduce a series of key reference scotch whisky aromas!
Educate you regarding nosing terminology/vocabulary!
Explain the scotch whisky nosing and tasting process!
Identify the key aromas to be found in your favourite single malts!
with the unique Scotch Whisky Aroma Nosing Kit and accompanying explanatory guide!

The Scotch Whisky Aroma Nosing Kit contains;


24 aroma samples that cover the spectrum of aromas typically found in scotch whiskies
An explanatory 60 page booklet guide
Blank aroma strips
Nosing and Tasting Record Sheet
all packaged in an attractive wooden box.
---
Share this Product
---
More from this collection